+ make the best body scrubs
+ have a soft, moisturized body
+ create scrubs for different areas of your body
+ want answers to all your questions about making scrubs
+ to have access to free printable scrub labels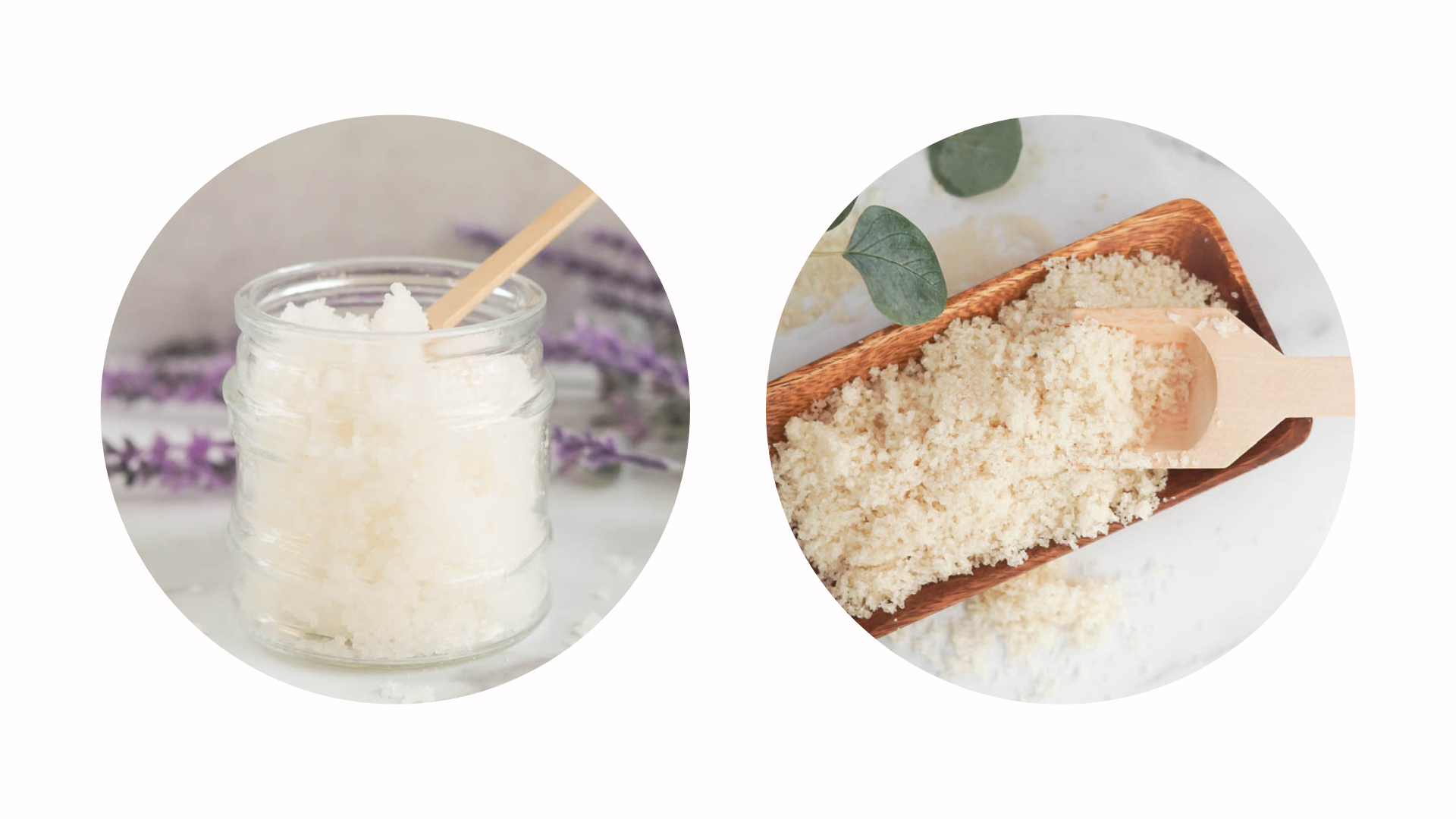 This digital body scrub recipe book contains everything you need to know about creating
This book is an incredibly in-depth resource for beginners to experienced scrub makers.
We do a deep-dive into specific body scrub recipe ingredients, substitutions and I answer many common questions about making scrubs at home.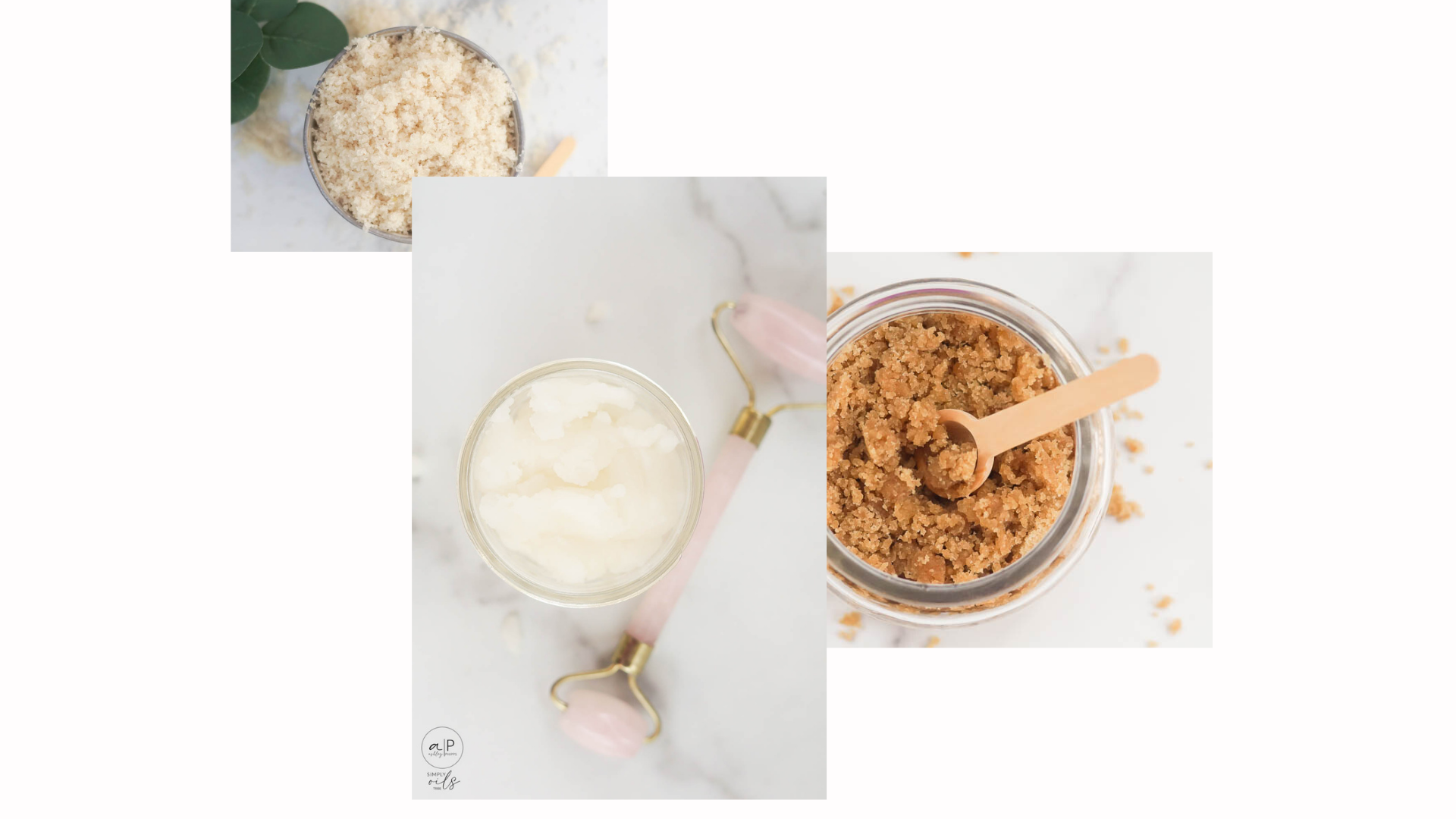 For
less than $1
per recipe,
you get access to these amazing recipes!
(in two different sizes!)

1. Rose Petal & Mint Lip Scrub
2. Pink Lemonade Brown Sugar Hand Scrub
3. Margarita Salt Body Scrub
5. Citrus Brown Sugar Face Scrub
6. Relaxing Coconut Body Scrub
8. Grapefruit Mint Sugar Scrub
10. Coconut Facial Sugar Scrub
11. Calming Brown Sugar Scrub
12. Creamsicle Salt & Sugar Scrub
14. Refreshing Sugar Scrub
15. Pumpkin Spice Sugar Scrub
16. Spiced Cider Sugar Scrub
17. Holiday Spirit Sugar Scrub
18. Peppermint Sugar Scrub
20. Orange Ginger Raw Sugar Foot Scrub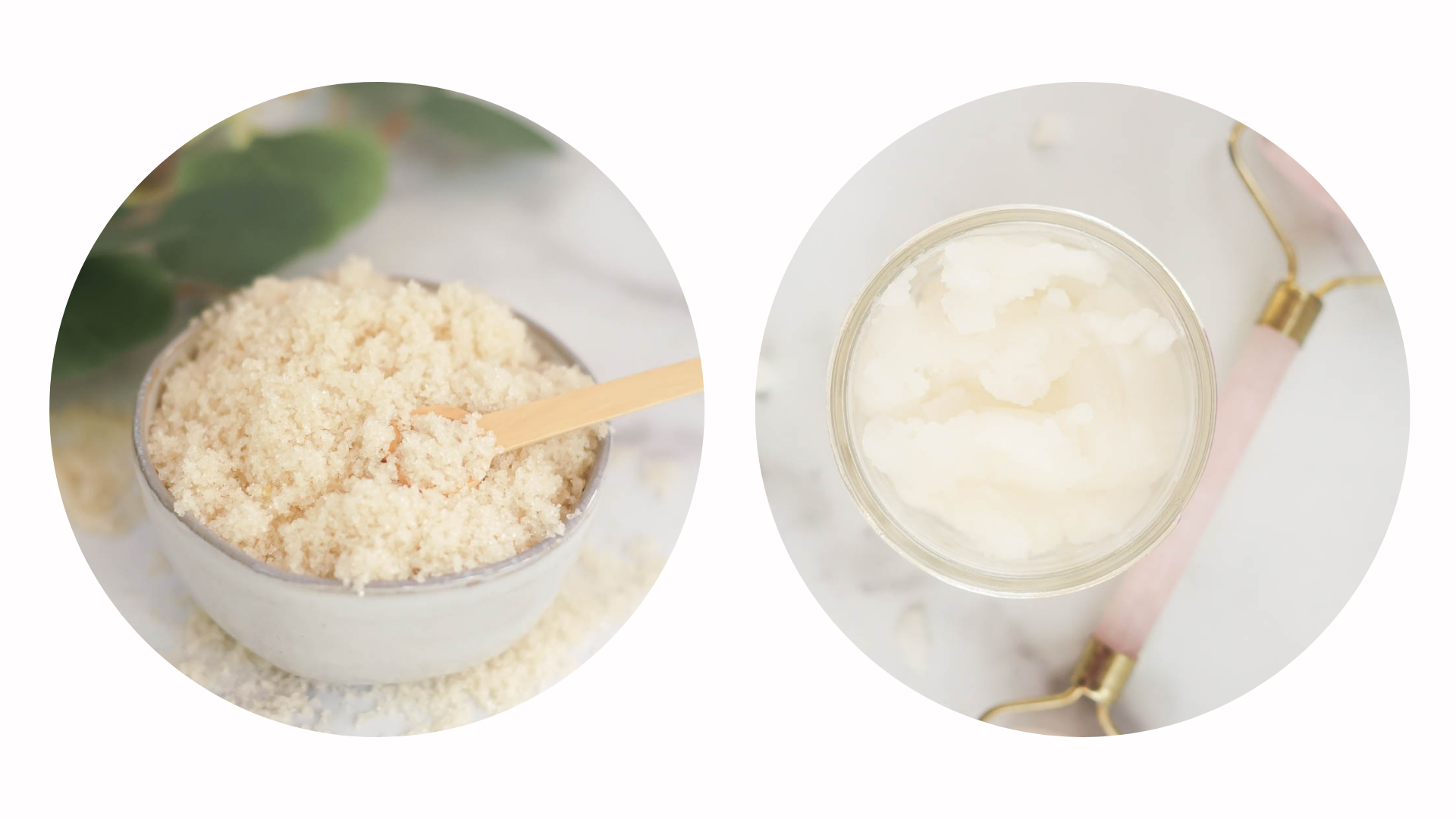 This digital book also includes
to print for every single scrub recipe in this book.
I am including these labels in both an 8oz jar size (2" x 2") and a 4oz jar size (1.5" x 1.5"),
at no additional cost!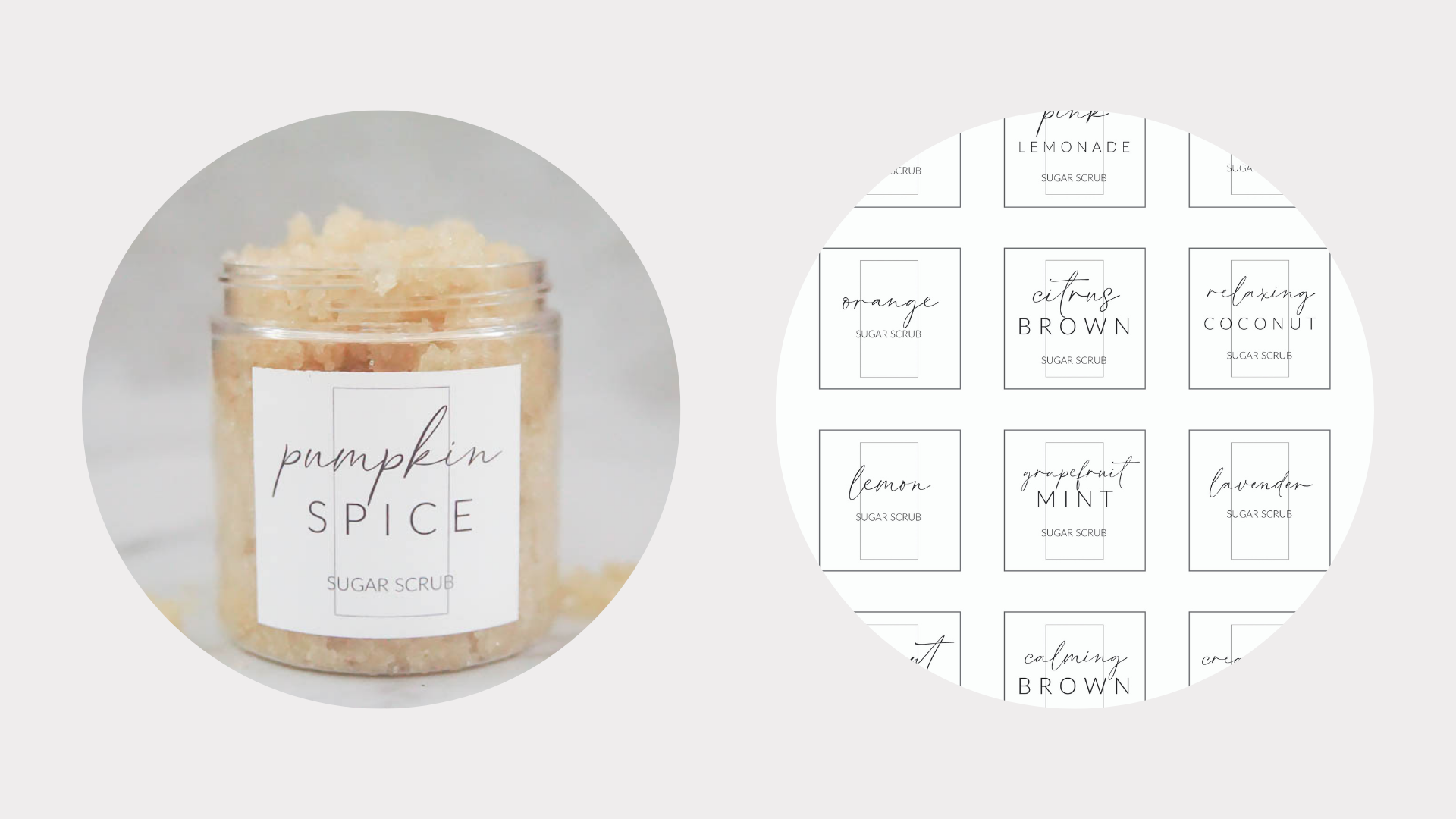 You may be wondering why you would spend money on a scrub recipe book
when scrub recipes are everywhere?
Well, this book is different than anything you can find on Pinterest. It is also very different than any other body scrub book.

+ printable labels for every single recipe are included for FREE
+ information about substitutions and ingredients
+ 20 beautiful and unique recipes with stunning photography

This book contains 3 pages of FAQs plus 2 additional pages of other information.
It also includes 20 unique recipes with beautiful photography and links to download printable labels.
And it includes links to purchase everything you need to make all of these scrubs.
I answer many commonly asked questions
and go into extensive detail on topics such as:
+ A secret ingredient that will keep your scrubs moisturizing without feeling greasy
+ How long scrubs will last
+ The pros and cons between different sugars and when to use each one
+ How often you should scrub
+ Why you should make your own scrubs
+ How to save money by making your own scrubs

Here is what people are saying about this body scrub book: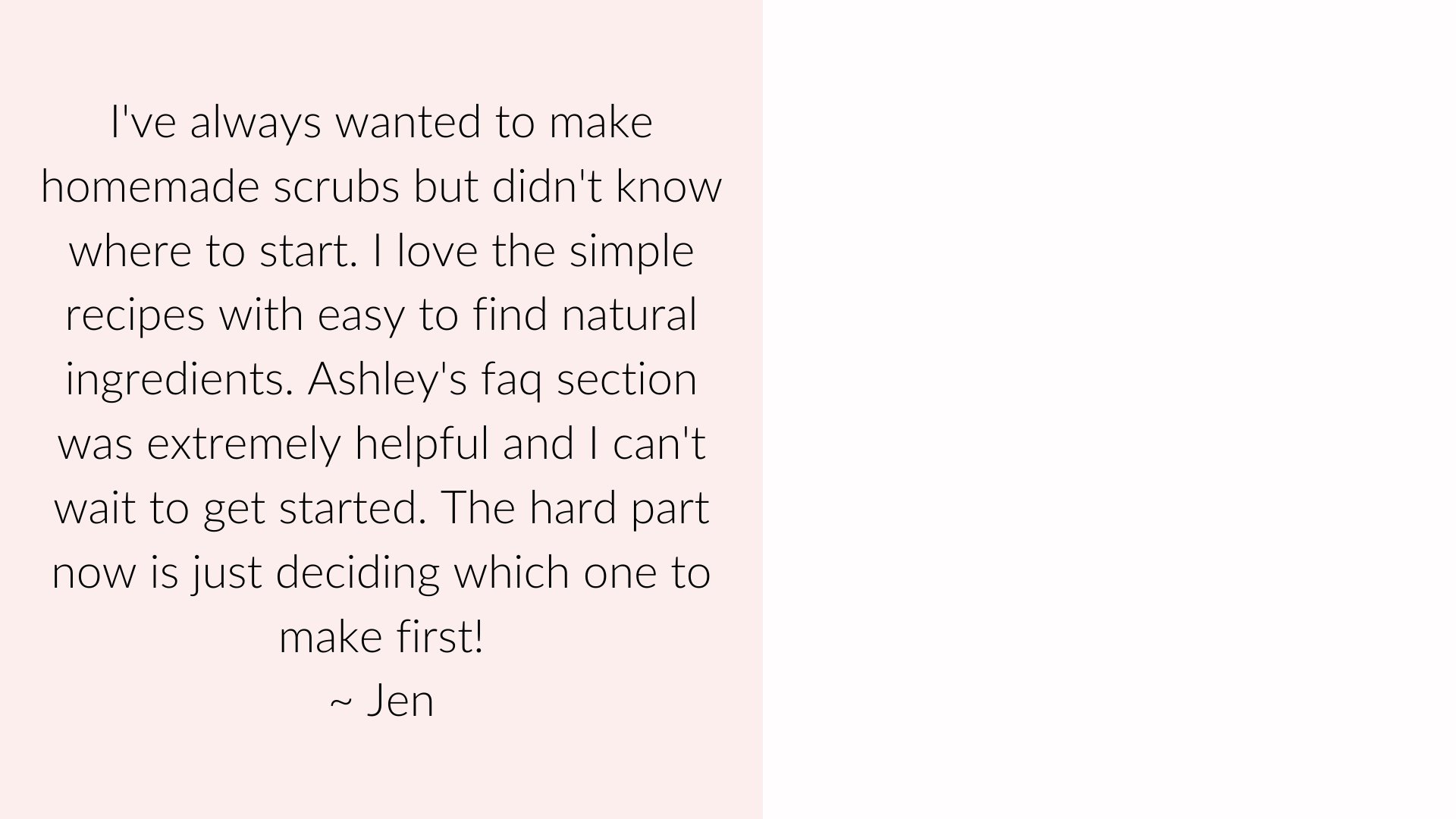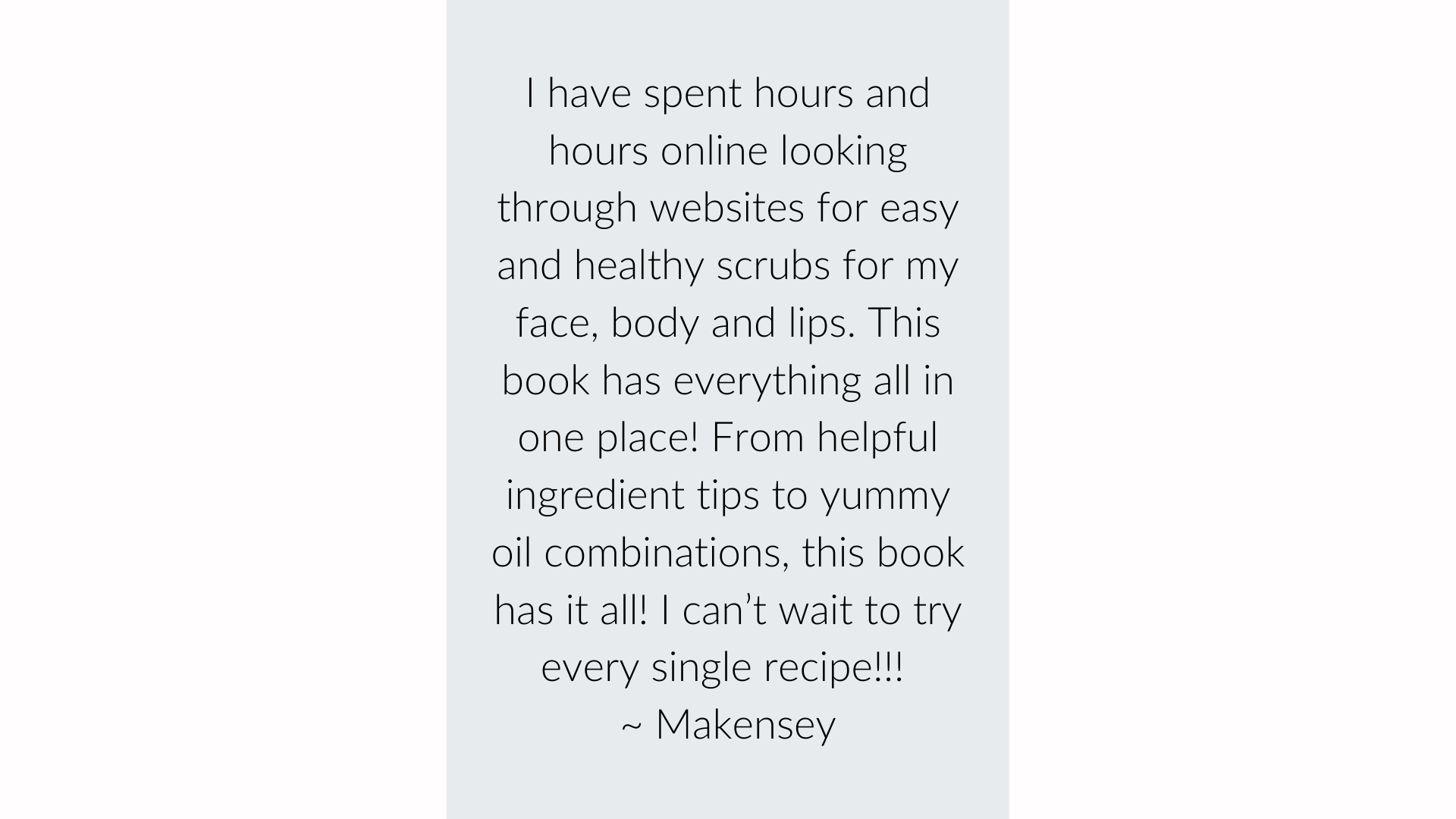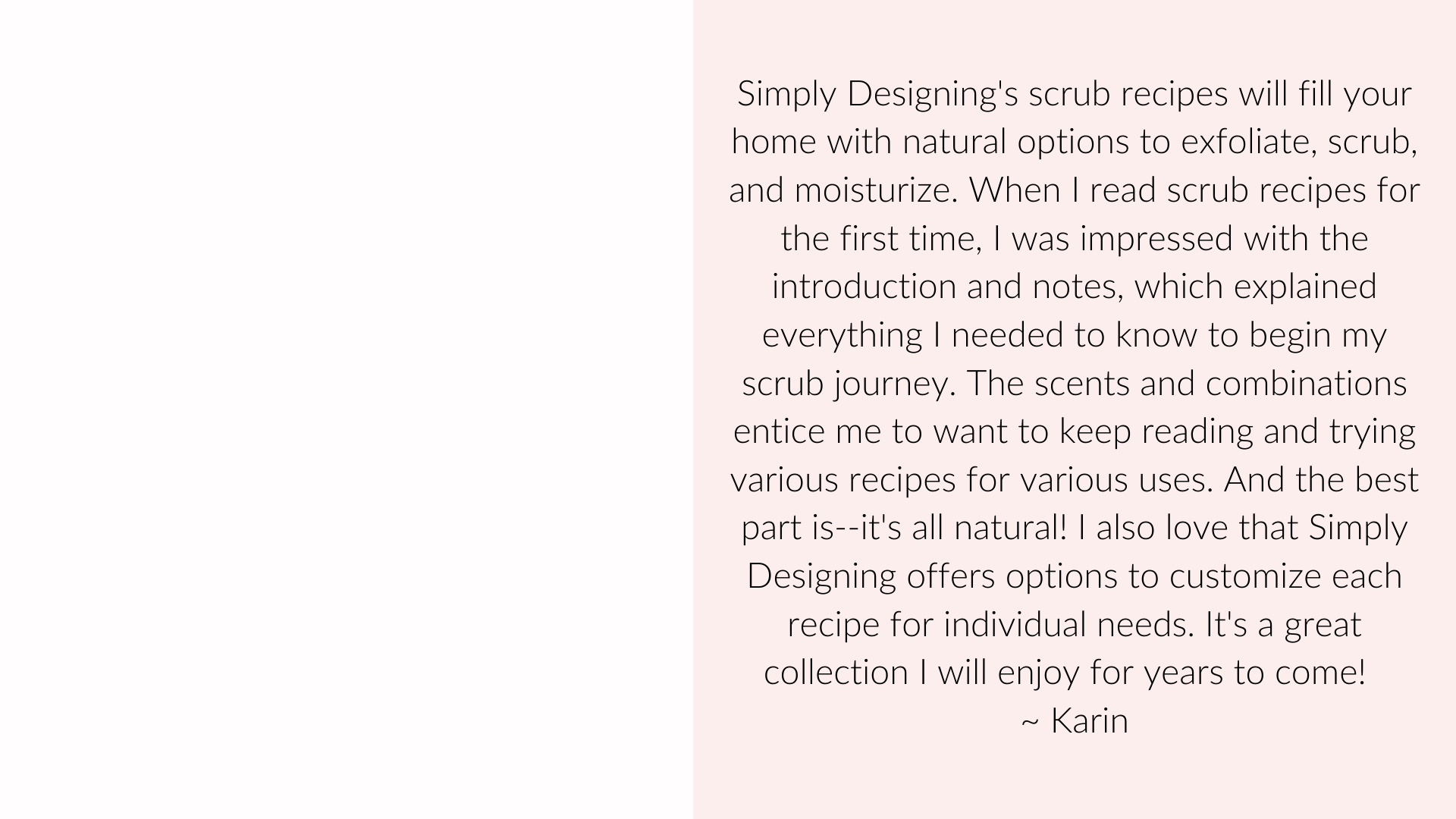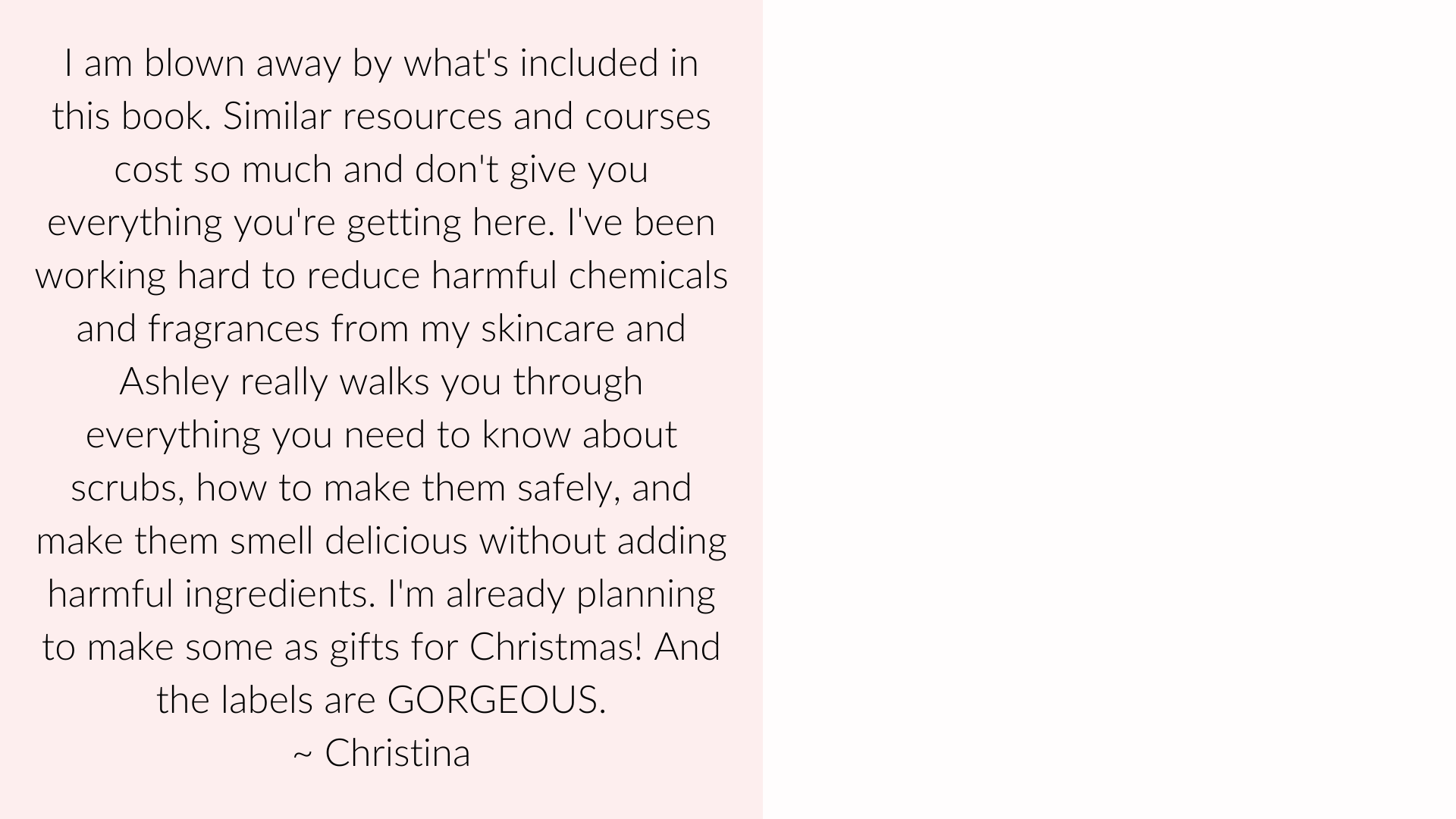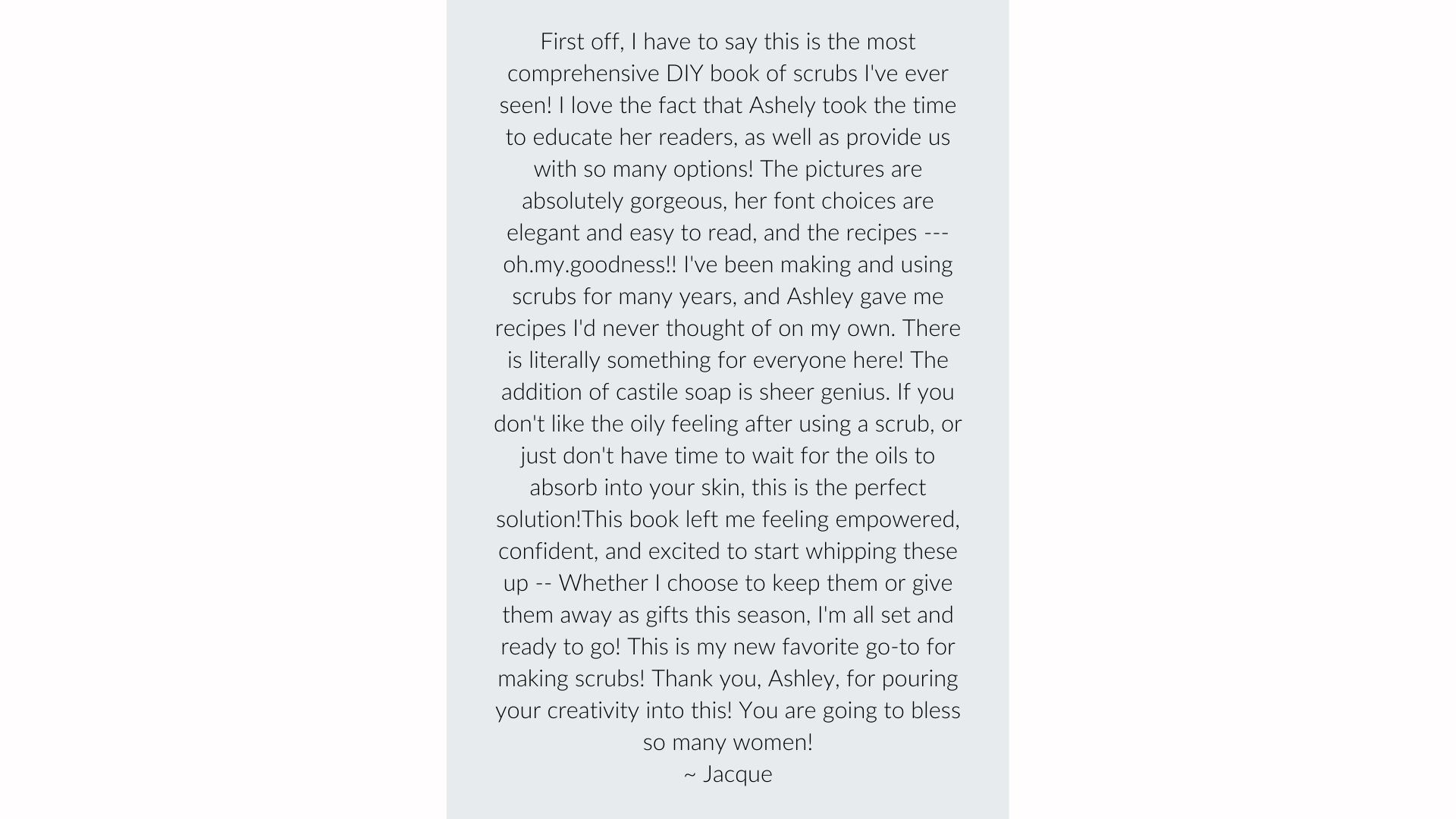 This purchase contains (1) digital file for this book. It does not contain any physical product. Additional products may need to be purchased in order to use the recipes in this book. Included in this digital book purchase are links to the exclusive digital scrub labels (in the back of the digital-book). This listing does not include any props shown in photos, containers, or a physical product of any sort. This listing is for a DIGITAL product. No physical product will be sent. You should have access to the digital book immediately upon paying for it right here in my member vault area. Please allow up to an hour for access before contacting me for assistance. Thank you.
+ + + + + + + + + +
In this digital body scrub book, I provide a list of basic supplies needed that you may already have at home, or you can snag them easily from my Amazon Storefront (look under Sugar Scrub Recipes). https://www.amazon.com/shop/ap


I also recommend snagging Young Living essential oils to create wonderful smelling scrubs. These recipes are designed and created using Young Living essential oils from the Premium Starter Kit (Peppermint, Valor, Lemon, Stress Away, Citrus Fresh, Lavender, Frankincense, Peace & Calming, Raven, Thieves) plus other oils including Lime, Orange, Grapefruit, Bergamot, Joy, Christmas Spirit, Ginger, & Spearmint.
+ + + + + + + + + +
WHAT FRAGRANCE DO YOU USE IN THIS BOOK?
I love yummy smelling scrubs. But I won't lie, more "fragrances" give me headaches. After a lot of trial, and error, and research, I decided to only use Young Living essential oils in my home and homemade products. I love their brand and it's the only brand of essential oils I trust enough to recommend using. If you are new to essential oils and want to get started, go here: https://ashleyphipps.com/starter-kits
CAN I USE A DIFFERENT KIND OF ESSENTIAL OILS?
You are always free to substitute items for your preference. Note that when you substitute items in the recipes, your results may vary. This book does have a few Young Living specific oil blends used in it, so you can research and sub the oils however you choose to. Again, I recommend sticking with Young Living, but you are always free to make a different choice.
WHAT IF I DON'T WANT TO USE ESSENTIAL OILS AT ALL?
No big deal. Just make the recipes as written without any essential oils. You will get a nearly scentless scrub (depending on the carrier oil you use) that will still exfolilate your body really well!
WHAT ESSENTIAL OILS ARE USED IN THIS SCUB BOOK?
In this book, my recipes include using the following essential oils:
Peppermint, Valor, Lemon, Stress Away, Citrus Fresh, Lavender, Frankincense, Peace & Calming, Raven & Thieves (These all come in the current 2019 Young Living Premium Starter Kit)
Lime, Orange, Bergamot, Joy, Christmas Spirit, Ginger & Spearmint
WHAT OTHER SUPPLIES WILL I NEED TO MAKE THESE BODY SCRUBS?
Besides essential oils, you will need a few other ingredients for your scrub making adventures such as:
Granulated Sugar, Superfine (Caster) Sugar, Brown Sugar, Raw Sugar, Table Salt, Rose Petals, Fractionated Coconut Oil, Jojoba Oil, Sweet Almond Oil, Coconut Oil, Liquid Castile Soap, Coconut Oil, Liquid Castile Soap, 8oz Glass Jars and/or 4oz Glass Jars
CAN I SHARE THIS FILE WITH FAMILY, FRIENDS, NEIGHBORS OR DOWNLINE MEMBERS?
Nope. This digital file is only for personal use by the person who purchased the book. If your family, friends, neighbors, or downline members would like this book, please direct them here to purchase their own copy.
CAN I GIFT THIS BOOK TO SOMEONE?
Yes, you sure can. Simply have them sign up to purchase the book and reimburse them the cost of it. Or PURCHASE ONE DIGITAL COPY of this digital book PER PERSON.
CAN I INCLUDE THIS IN A WELCOME GIFT TO SOMEONE WHO SIGNED UP FOR ESSENTIAL OILS UNDER ME?
Yes, you sure can. Simply have them sign up to purchase the book and reimburse them the cost of it. Or PURCHASE ONE DIGITAL COPY of this digital book PER PERSON.
CAN I MAKE THE SCRUBS IN THIS BOOK AND THEN GIFT THE SCRUB?
Yes, you sure can!
CAN SHARE THE LABELS WITH FRIENDS?
Nope. The use of the labels, either digitally or physically, is reserved for use by the purchaser only. You can, however, print the labels, attach them to a scrub that you created, and gift that!
Nope. These are for personal use only and can not be resold either in digital form or physical form.
CAN I SHARE PORTIONS OF THIS BOOK WITH MY FRIENDS/FAMILY/DOWNLINE/ONLINE?
Nope. This book is copyright and only the purchaser of the digital-book has rights to it. Sharing any portions of it (or all of it) is an infringement of this policy. Please direct them here to purchase their own copy.
+ + + + + + + + + +
TERMS OF USE:
This is available for PERSONAL use only. No commercial use of this book is allowed. See the disclaimer inside the book for the full disclaimer and copyright.
You may NOT share, distribute, or resell this digital file. You may not distribute this book printed or in digital form in any way. You may not share it with friends, family, neighbors, etc. You may, however, direct them to my site to purchase the book for themselves.
The purchaser of this digital file may print one copy of this book for PERSONAL USE only.

Colors may vary slightly due to monitor settings, printout settings, & material used.
This digital book is supplied via uneditable PDF only. It is a digital book. No physical product will be supplied.
Because this is a digital product, all sales are final.
Digital files (or the single copy you are allowed to print) are ONLY for the use of the buyer. The files are not to be shared digitally, altered, or copied in any way. Digital downloads are non-refundable. Only the person who purchases this file has the right to print it.
I do not provide tech support for your computer, printer, internet, or any other tech support. I am not responsible or liable if manufacturers change printing specs on their labels.
Printed products are not to be altered, modified, or changed in any way. They are not to be used for resale.
You can not alter, modify, share, or resell this in either digital or print.
You may use the recipes in this book to create scrubs for yourself or to give as gifts. You can also use the recipes at make-n-take parties, however, distributing the recipe in ANY form (printed or digital) is strictly forbidden.
All products, images & text are copyright Simply Designing.
Any copying of the text within the book is a violation of copyright terms, whether in printed, digital, or online form.
Should you have any further questions, please feel free to email me at simplydesigning [!at] gmail.com.